Content
Greenpower Info
Beam supports Chipping Sodbury Schools Greenpower project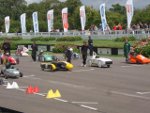 Greenpower Support
BMeasure-125i
New Product 2019
Description
The BMeasure-125i is an IOT data capturing and logging unit for real world data. The supplied BMeasure software toolset has been developed to enable units to be simple to configure and use. Both Linux® and Windows™ operating systems are supported. Operation as an MQTT client facilitates connection to industry standard IoT cloud platforms. Operating as a data logger, the system can autonomously sample and store the data to internal FLASH memory for later data retrieval.
Where there is a requirement to sample a larger number of channels, units can be linked to provide up to 32 synchronously sampled channels. This is ideal for many sensor array applications.
The unit is low power and has flexible power supply inputs. Battery operation can be used for remote monitoring applications. Typically these units are used in the laboratory, industrial and remote sensing areas.
Operational Modes
The unit has been developed to be extremely flexible, supporting a number of operating modes
Host Controlled
Controlled via a host computer over any of the communication interfaces a user of program can instigate measurements and capture data from the system. The digital IO lines can be both read and written, the switch inputs read and the relays operated.
Autonomous
In this mode the unit the unit has been programmed to make periodic measurements. These measurement can be saved on the unit for later retrieval or if network communication is available, data can be logged to a cloud based server.
Program
In this mode the unit the unit runs a simple, user developed, Micro-Python script program. This extended form of Autonomous mode enables the unit to perform complex measurement sequences and perform simple actions based on the measurements. For example in a go/no-go indication when used in a testing application.
Capture
8 analogue channels synchronously sampled, 24 bit, 125 ksps, ±1.25V and ±12.5V ranges
8 digital I/O channels 0-5V
Programmable outputs
2 channel waveform generator ±5V, 100 Ohms, 16 bit, 125 ksps
8 digital I/O channels 0-5V
2 Relay channels 24V, 1A
Connectivity
USB 2.0 High speed (480 Mbps)
RS485
Wifi
Ethernet 10/100 Mbps with PoE
Storage
Internal eMMC FLASH 4 GByte
Micro-SD card
Power Options
DC 5-16V
PoE - Power over Ethernet (802.3at Type 1)
USB (5V)
USB (5V) Battery (For remote data logging operation)
Options
Battery (For remote data logging operation)
3G/4G Modem for remote operation
Software
Host software for Linux® and Microsoft Windows®. More info ...
HTML WEB interface for simple access. More info ...
File formats
CSV (comma separated values)
BMEAS (Beam BMeasure native)
TDMS (National instruments Technical Data Management Streaming)
Please contact us for more information by email or using the form below. info@beam.ltd.uk